About Me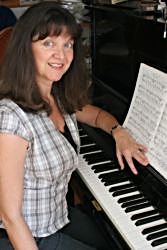 Please contact me for further information.
e-mail: liana@roetterturello.net
phone: (702) 370-7139

I have returned to Las Vegas after a professional singing career, predominantly in Italy, where I performed leading roles in operettas in the major theatres of the country. Although I come from a classical background I've always enjoyed singing musical theatre and pop music as well, and have had the opportunity to perform and record in these genres also throughout the years.
I have a degree in Voice Performance and have been teaching and performing for over twenty years. My voice teaching experience stems from the vocal training I received both in the States and in Italy from distinguished voice teachers and coaches, working alongside and dialoguing with other singers whom I felt were technically and musically polished, and, last but not least, the stage itself.
My piano teaching experience comes from a much more intimate source. Both my parents were concert pianists and teachers and I grew up listening to them perform. I studied under their guidance and whenever I could, assisted their lessons. What I learned from them regarding piano technique and interpretation is invaluable, and I try to pass that on to my students.
I am a full member of NATS and MTNA.